Advanced and Urban Air Mobility
What the world is planning
A unique, global country-by-country, city-by-city guide to AAM/UAM programmes and routes
Countries
with active AAM/UAM programmes
Cities/regions
at various stages of readiness
Introducing the Global Advanced Air Mobility/Urban Air Mobility Market Map
Country-by-country, city-by-city, the Global AAM/UAM Market Map lists the routes, the route-lengths, the key industry players from eVTOL and vertiport manufacturers to local authority partners, the programmes which are clearly defined and funded, to speculative, over-the horizon opportunities. We identify and describe them all, providing you with a unique guide to the industry players, the customers and the key programmes and upcoming opportunities which will accelerate your business.
Find out more
Local knowledge, global understanding
Our global team of industry experts has been constantly monitoring advances in AAM/UAM programmes worldwide since the industry's inception – from vertiport design, eVTOL operations and planning  through to regulatory advances. Under the leadership of www.urbanairmobilitynews.com and www.unmannedairspace.info's editorial director Philip Butterworth-Hayes we have built a global network of AAM/UAM experts in emerging market locations such as Africa and central America alongside more widely-publicised markets of Korea, Japan, Europe, North America and China.
How to subscribe to The Global AAM/UAM Marketing Map
The Global AAM/UAM Market Map is the perfect resource for industry professionals at every level seeking to identify market opportunities or track the progress of AAM/UAM market maturity throughout the world.
The standard level of subscription is the 'Annual' subscription. This gives access to the full database and constantly updated Masterfile – a download version of the database (Word and PDF). In addition we produce a Monthly Update offering insight into the latest news and trends.
We also offer 'Snapshot' –which gives access for seven days. You can use the complete online directory and download the complete Masterfile.
Find out more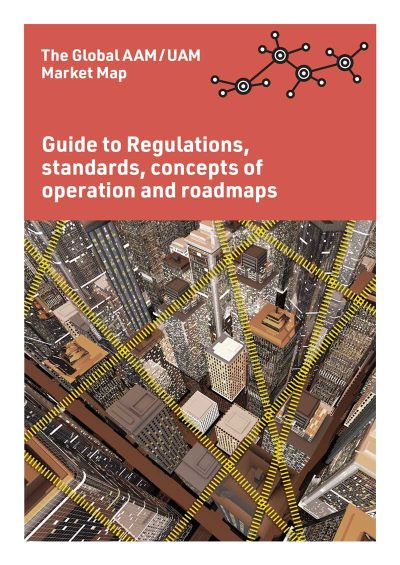 Find out about our latest project
A unique, up-to-date overview of AAM/UAM regulations, standards, concepts-of-operation and roadmaps being developed around the world. Plus relevant commentary on the different approaches taken by national aviation safety organisations.
The Guide costs just £300.00, which includes an annual subscription of 11 monthly updates.
Read about the Guide
If you have any queries about The Global AAM/UAM Marketing Map please email us at market@globalairmobilitymarket.com,
or call directly on +44 1273 724 238